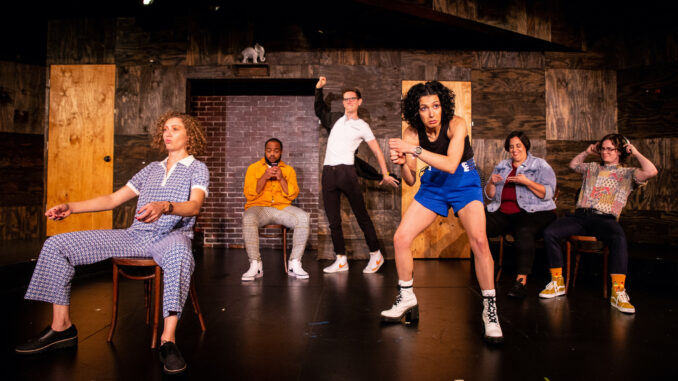 I do not know about you, but one of my favorite shows to go out and watch are comedies. The Second City has a new production with e.t.c. stage's 45th revue The Best Decision You've Ever Made which opened October 28th. "The show explores the choices we make and how they impact ourselves and everyone around us in a hilarious, heartfelt, and interactive way. Make a great decision and come experience this show," says Frank Caeti, who is an alumni of the e.t.c. himself and opening his first resident stage show as a director for The Second City after the pandemic interrupted the 44th revue. Making their stage debuts are stage manager Abby Beggs, musical director Tilliski Ramey, and assistant director Masood Haque.
One of the aspects that added to the hilarity and part of what I thought made the show as entertaining as it was, were the audience suggestions to the acts; picking the music, setting, and personas. Performed and written by returning ensemble members Atra Asdou, EJ Cameron, Mark Campbell, Laurel Krabacher, and Chuck Norment with new cast member Alex Bellisle, seamlessly improvised the audience's choices within the scene. A funny cast, the audience along with my guest and I giggled and laughed throughout the whole show.
In case you are wondering; The Second City takes the health and safety of its patrons, talent, students, and staff very seriously. In addition to strict sanitization standards, capacity limits, and increased space between theater seating, proof of vaccination is required for anyone 12 years old and up entering the building. Masks are required indoors at all times except when eating or drinking.
I suggest you make the choice and watch this show at Second City. Amusing and humorous, it has all the elements which make for a great night out. Don't miss it.
Tickets start at $29.00 and are available by phone at 312-337-3992 or online at secondcity.com. The show schedule is as follows: Thursdays at 7pm; Thursdays – Saturdays at 7pm and 10pm; Sundays and 5pm.
.
About The Second City
The Second City opened its doors in 1959 as a small comedy cabaret and has since grown to become the world's most influential name in improv and comedy. Second City's stages, Touring Companies, and Training Centers across North America have proudly been the launch pad for many of the funniest names on the planet, including John Belushi, John Candy, Steve Carell, Stephen Colbert, Chris Farley, Tina Fey, Keegan-Michael Key, Eugene Levy, Tim Meadows, Bill Murray, Mike Myers, Suzy Nakamura, Catherine O'Hara, Amy Poehler, Gilda Radner, Sam Richardson, Joan Rivers, Amber Ruffin, Jason Sudeikis, and Steven Yeun, among many more.