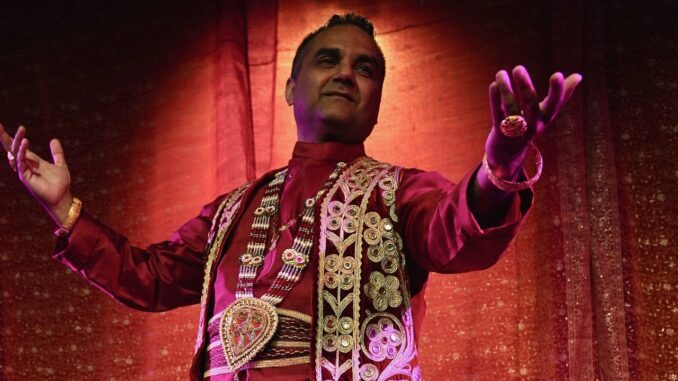 When playwright Terrence McNally was surrounded by hopelessness and death during the height of the AIDS epidemic, he searched for the faith to continue against all odds. His search led to some of Broadway's finest hits. The winner of five Tony awards, McNally wrote plays, musicals, operas, teleplays, and even a memoir. In 1964, he put homosexuality squarely on the stage with his controversial play "And Things that go Bump in the Night." 1993 brought THE PERFECT GANESH to off-Broadway and also gave McNally a Tony award for his musical, "Kiss of the Spider Woman." McNally persisted and thrived with musicals like "Ragtime" in 1997 and "The Full Monty" (with David Yazbek) in 2000. Life seemed to go smoothly until 2020, and then McNally died of COVID-19. Thus the twin tragedies of AIDS and COVID converged – making A PERFECT GANESH, a finalist for the Pulitzer Prize in 1994, the perfect choice for today's audiences.
The time is 1993, and the place is India. Two older women decide to take a two-week trip to India searching for the faith that McNally also searched for most of his life. Uptight Waspish Margaret Civil (Mary Allwright) and adventurous Katharine Brynne (Kathleen Gray) must heal from their personal tragedies. What better place than the home of Ganesha (Mueen Jahan), the Hindu God of wisdom, prudence, acceptance, and love? Mary – recently diagnosed with breast cancer – and Katharine – still reeling from her son Gabriel's murder by gay bashers – hope that a change of scene will brighten their days. Meanwhile, Ganesha orchestrates their longings and experiences by connected with them through the little bit of Ganesha in all of us.  His message – the world goes on – rings loud and true today.
The talented principals are at once poignant and funny – just two average ladies wearing the personas of tourists and a God who is above all practical and even a bit eccentric. Man #1 (Cameron Gregg) and Man #2 (Delio Eswar) share multiple roles, as does Ganesha himself. Finally, Walter (Judd Yort) expertly brings life to death. Director David W. Callander does a splendid, thoughtful job of weaving the elements of the tale and its characters together. And let's not forget graceful dancer/actress Svetlana Tulasi (who shares the role with Pavia Sidhu), who brings both color and fun to her multiple roles.
A special nod to David Goldstein for an elegant, evocative scenic design which brings India to Los Angeles shores. Brandon Barush's lighting, Michael Mullen's stunning costumes, David B. Marling's sound, and Byron Batista's clever hair/wig/mask design – all lend just the right touch to this sometimes otherworldly production. A PERFECT GANESH is a visual delight, as well as a gently profound study of life, death, and the human spirit. Inveterate travelers, especially those who have journeyed to India, will chuckle and daydream as they remember their own responses to India's history, culture and beauty. Anyone who has experienced loss will find hope and healing in McNally's play, deceptively simple yet deeply involving.
The estimated running time is 2 hours and 30 minutes with one intermission. COVID-19 protocols are in effect, including proof of vaccination and masking during the performance.
A PERFECT GANESH runs thought November 21, 2021, with performances at 8 p.m. Thursdays and Fridays, at 3 p.m. and 8 p.m. on Saturdays, and at 7 p.m. on Sundays (dark on 10/31 and 11/14/21). The Pico (formerly Pico Playhouse) is located at 10508 W. Pico Blvd., Los Angeles, CA 90064. Tickets are $35. For Information and reservations, go online.