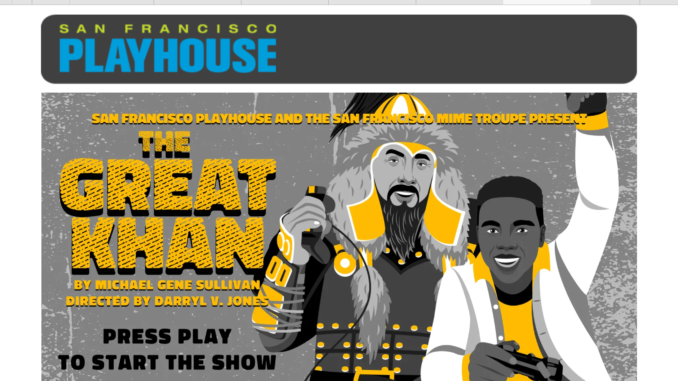 San Francisco – The Great Khan is a play about race, but that's not all. This is a play about gender, but that's not all, either. This is a play about power, victimization, survival, misunderstanding, and that slow fade that happens when no one else recognizes what is happening to us as kids- as demonstrated aptly by characters Jayden (Leon Jones), "Ant" ("short for 'Antoinette'") ( Jamella Cross) and Gao-Ming (Kina Kantor)– and as adults, including Jayden's mom (Velina Brown) who is struggling to make her way in the world as an accomplished, grounded, yet hip single mother.
Yes, at face this is a marvelous piece of theater reminding us we all have childhood negative events and wounds to address. But this work is also a masterpiece demonstrating how those traumatized often seek out unusual ways to cope (to say the least), how that coping is misunderstood, how this can happen in ways that impact individuals, families, entire populations, entire generations.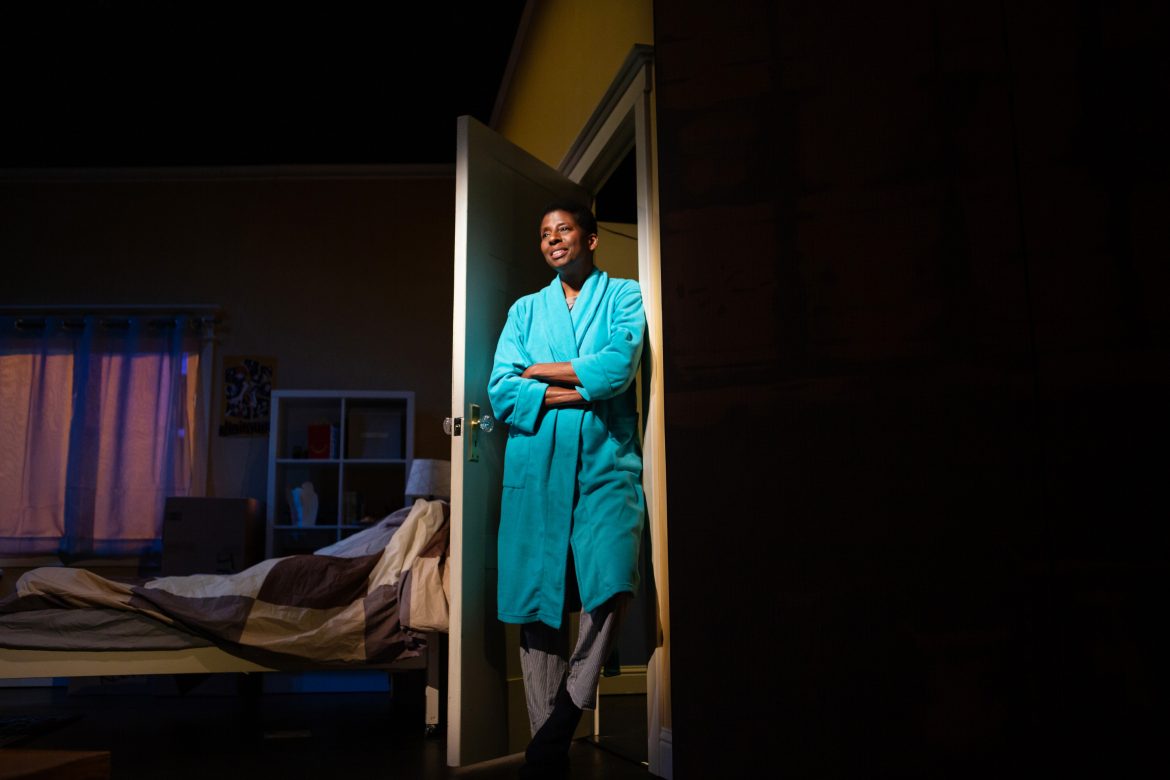 "I wanted to write a drama about growing up Black in a 'Land of the Free' founded by slave owners," Michael Gene Sullivan says, "but I also wanted to write a comedy about someone struggling to squeeze into a stereotypical mold created by those that hate them."

"Luckily," Sullivan adds, "Genghis Khan showed up to save me," and he masterfully weaves the history of Ghengis Khan through the legend's back story of childhood upset and frailty (as "Temujiian") which could be claimed as forming Khan into the massacring conqueror for which he is remembered. When Ghengis Khan actually does show up (played by Brian Rivera, who totally rocks this role), Sullivan skillfully applies that historical figure's transformation. The theme for each of the characters in this play, as survivors, is then seen in the mirroring.

"I don't need anybody to save me…" says Ant of her near-miss sexual assault by boys at school interrupted by would-be hero Jayden. "I don't need your ass getting whipped saving me…" she confirms, sending the message home how upset she is that she can't move and operate in the world as a budding young woman without fear of young men. Rightly upset, Ant's response makes clear others can't understand and she doesn't know what to do about it…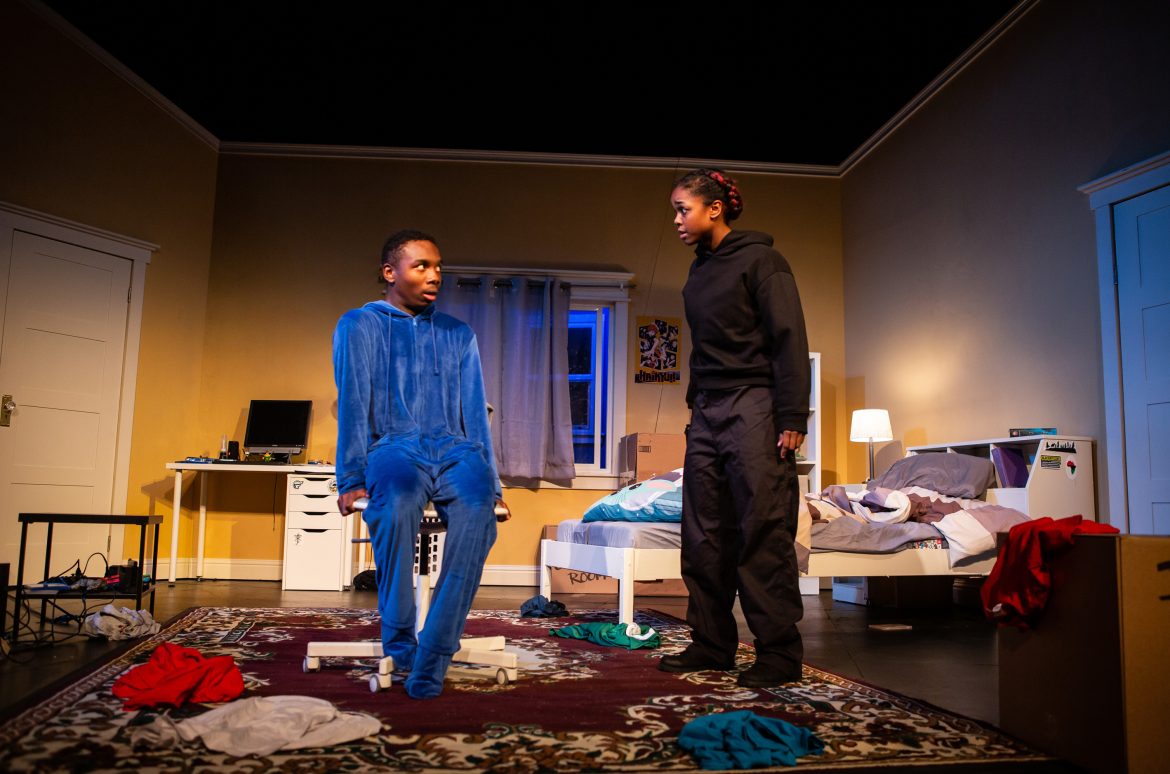 "I'm a Black kid in a school with a buncha not Black kids and no homeys…" Jayden underscores as he attempts to explain to his mother- later to a concerned, but clueless, teacher in his new school- what happened to him when "Ant's" attackers decided to hound him for stepping in on their despicable fun and why he feels fearful no matter where he goes. "I just want things to be the way they were…" he says, having changed schools, even, in attempt to feel safe, to break free. He's rightly upset when, seemingly, no one can really "get" what he's going through, either, insofar as the threat of constant danger from those he ratted out and then (and Spoiler Alert) what the young lady he saved begins as she reaches out to him… He, too, doesn't know what to do about any of this…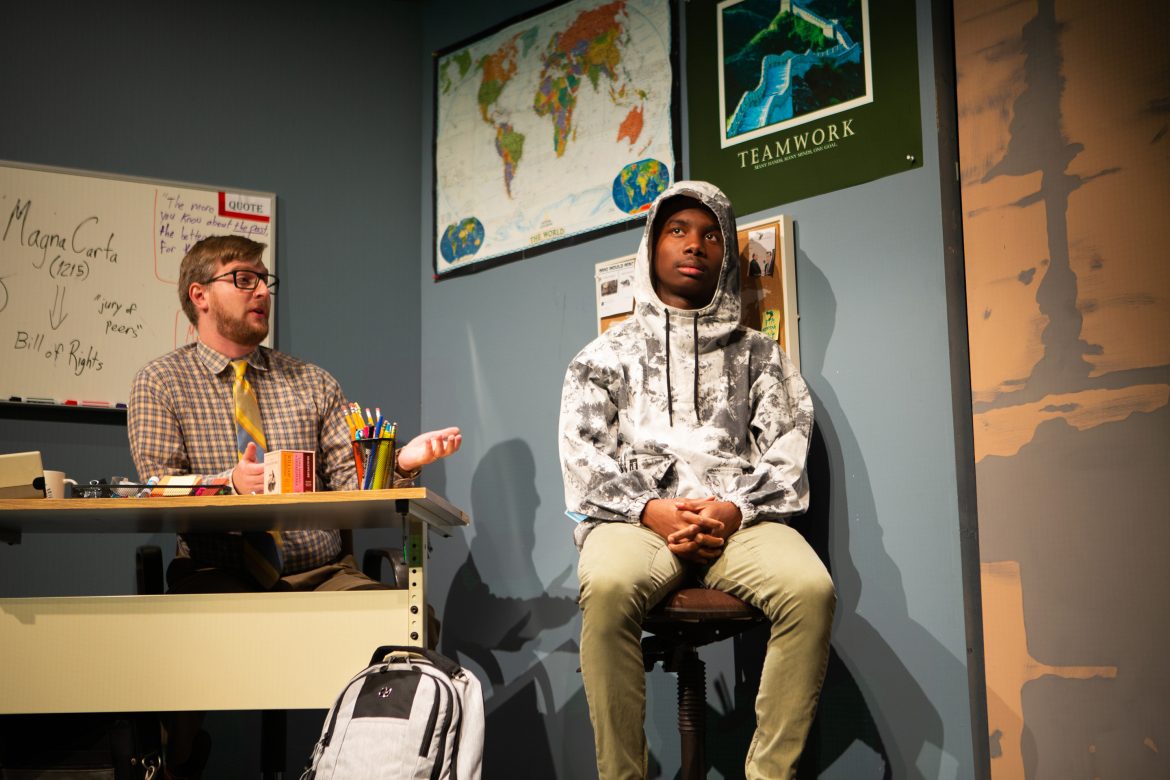 Jayden's exchange with his History teacher "Mr. Adams," played convincingly by Adam Kuveniemann, painfully reminds of just how awkward most of us can be despite being willing but so inept in trying to make reparations for wrongs of prior generations and unenlightened others: "Oh, so I'm bright because I'm historically oppressed?" Jayden convicts the teach after he's made an attempt to explain why he is reaching out to this, particular, student, in this, particular, situation of having relocated after a racially-related negative incident. We're appalled, if we feel the aspect of failed white Savior, and galvanized to seek better, wiser ways to speak, to relate. We're appalled, too, when the teacher cannot name 20 Black people in history who are NOT known for Entertainment or Sports fame…

The story is tough and pulls few punches but, with the playwright's deft touches to dialogue and body language and other nuances via director Darrel V. Jones, there are appreciated comedic sparks to be relished for both irony and laugh-ability. It's an especially sweet comedic relief when characters are called upon to act out a fantasy to empower themselves as even non-victimized children might do- and then we ask ourselves if it's okay to laugh at that…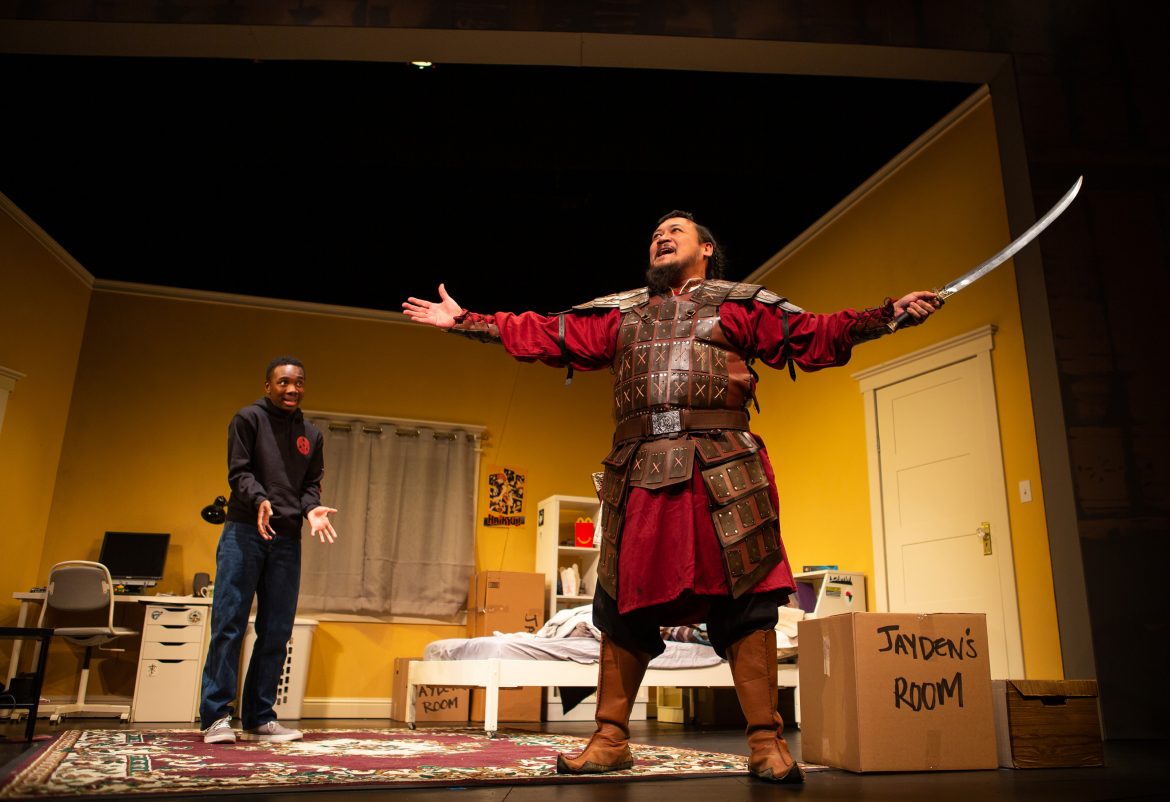 As with the legend of Ghengis Khan, the Conqueror, what could make a sweetheart of a child in love turn to a blood-thirsty spine-breaking murderer is the very same thing that could make any of us "go bad": being a victim of a crime based on race and gender, and being misunderstood, minimized, or worse, completely erased from history… While each character must grapple with this, their laments speak to the collective as well, how whole groups of victimized people are silohed with our histories written for us, as the play underscores, by "those who win…," those who are writing history. And what are we to do about this- especially when the remedies and helps in place are so gangly or, even, seemingly inappropriate as represented by that bumbling History teacher with good intentions?
A sleeping giant of a production on every level, this The Great Khan is not only about race, gender, power, inerrancy of history, social justice, and something that happened at school, it IS school…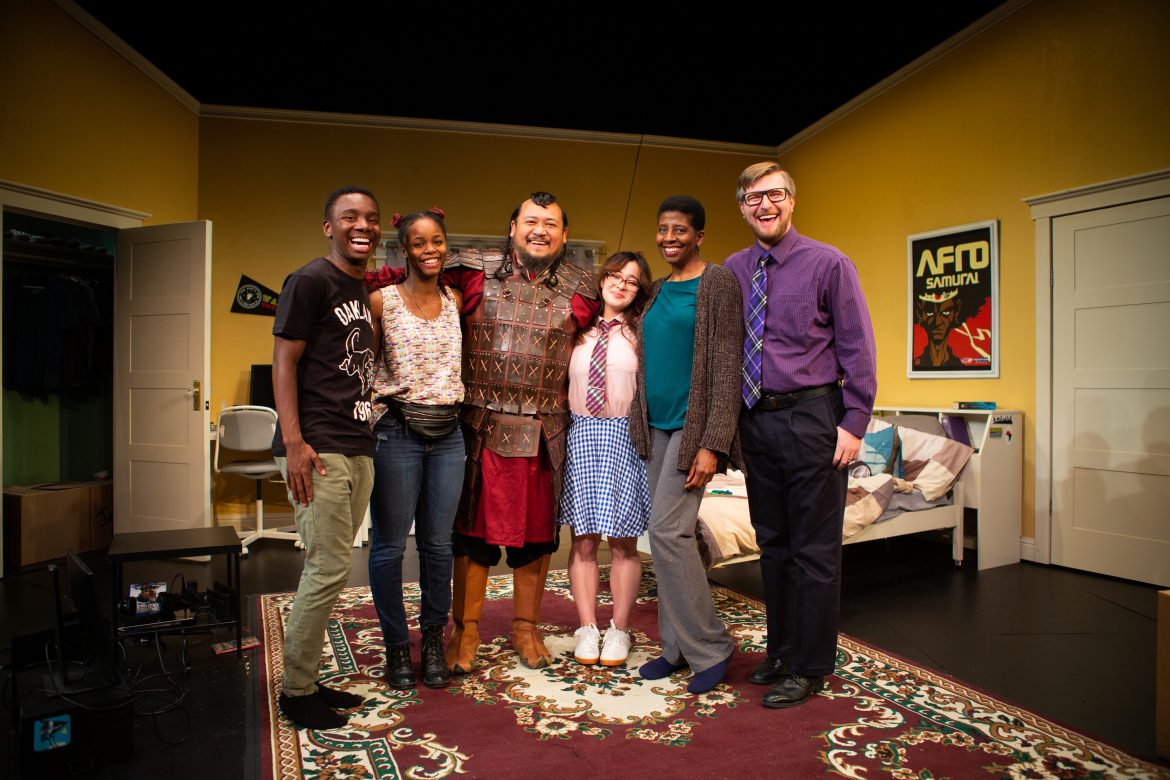 ABOUT THE PLAYWRIGHT
Michael Gene Sullivan is an award-winning playwright, director, and actor based in San Francisco. Sullivan's plays have been produced and performed at theaters throughout the United States, and in Greece, England, Scotland, Spain, Columbia, Ukraine, The Netherlands, Argentina, Canada, Mexico, as well as at the Melbourne International Arts Festival (Australia), the International Festival of Verbal Art (Berlin), The Spoleto Festival, (Italy), and The Hong Kong Arts Festival. Sullivan is Resident Playwright for the Tony and OBIE award-winning (and despite its name never, ever silent) San Francisco Mime Troupe, where he has written or co-written over 20 plays, including Tales of the Resistance, Freedomland, Schooled, Red State, Posibilidad, Making A Killing, and 1600 Transylvania Avenue. He was also a Resident Playwright for the Playwrights Foundation, and was awarded a 2017 artist residency at the Djerassi Arts Center. Sullivan's non-Mime Troupe plays include the award-winning all-woman political farce Recipe, A Red Carol, his critically-acclaimed one person show, Did Anyone Ever Tell You-You Look Like Huey P. Newton?, and his stage adaptation of George Orwell's 1984, which opened at Los Angeles Actors Gang Theatre under the direction of Academy Award winning actor Tim Robbins. 1984 has since been produced nationally (most recently at the Alley Theatre in Houston and national tour with New York Aquila Theatre) and in 14 countries around the world, translated into 5 languages, and is published in the United States, Canada, and Spain. For more information about Michael Gene Sulivan, please visit his web site here: www.michaelgenesullivan.com
About the San Francisco Mime Troupe
The always radical, never-ever silent Tony and OBIE award-winning San Francisco Mime Troupe is a democratically run, multi-ethnic, multi-generational, multi-cultural, gender-balanced theater of social justice that by its very existence sustains a vision of community governance of, by, and for The People. For over 60 years The Troupe has created and produced theater with a working-class analysis of the events that shape our society, used theatre to expose social and economic injustice, and to demand revolutionary change on behalf of working people. And to reach the broadest possible audience most of its shows are presented at a price every worker can afford, at a place they can all attend: free, and in the parks. (Or, for the two pandemic summers, as radio plays!) www.sfmt.org.
About San Francisco Playhouse
Founded by Bill English and Susi Damilano in 2003, San Francisco Playhouse has been described by the New York Times as "a company that stages some of the most consistently high-quality work around" and deemed "ever adventurous" by the Bay Area News Group. Located in the heart of the Union Square Theater District, San Francisco Playhouse is the city premier Off-Broadway company, an intimate alternative to the larger more traditional Union Square theater fare. San Francisco Playhouse provides audiences the opportunity to experience professional theater with top-notch actors and world-class design in a setting where they are close to the action. The company has received multiple awards for overall productions, acting, and design, including the SF Weekly Best Theatre Award and the Bay Guardian Best Off-Broadway Theatre Award, as well as three consecutive Bay Area Theatre Critics Circle Awards for Best Entire Production in the Bay Area (2016-2018). KQED/NPR recently described the company: San Francisco Playhouse is one of the few theaters in the Bay Area that has a mission that actually shows up on stage. Artistic director Bill English's commitment to empathy as a guiding philosophical and aesthetic force is admirable and by living that mission, fascinating things happen onstage. San Francisco Playhouse is committed to providing a creative home and inspiring environment where actors, directors, writers, designers, and theater lovers converge to create and experience dramatic works that celebrate the human spirit.
THE CAST:
Velina Brown* as Crystal
Jamella Cross* as Ant
Leon Jones as Jayden
Kina Kantor* as Gao-Ming
Adam Kuveniemann as Mr. Adams
Brian Rivera* as Temujin *Actors appear courtesy of Actors Equity Association, the Union of Professional Actors and Stage Managers in the U.S.
WHEN: In-person performances: October 13 through November 13, 2021
Wednesdays and Thursdays at 7:00 P.M., Fridays at 8:00 P.M., Saturdays at 3:00 and 8:00 P.M., Sundays at 2:00 P.M.
On-demand video stream: October 16 – November 13, 2021 (tickets valid throughout the run)

WHERE: San Francisco Playhouse
450 Post St., San Francisco CA 94102
-AND-
Streaming video at sfplayhouse/org (tickets required)

TICKETS: For tickets or more information, the public may contact the San Francisco Playhouse box office at 415-677-9596, or online at https://www.sfplayhouse.org/sfph/2021-2022-season/the-great-khan/

Text ©2021 Michele Caprario – Images from publicist/SF Playhouse, used with permission