How does a silly, gossipy teenager turn into a genuine real-life saint? Playwright Chiara Atik has tackled this question with witty yet profound results. The Echo Theater Company tried its best to present Atik's clever, funny, and moving play in 2020 but – alas – was forced to shut its doors as the COVID-19 pandemic rampaged through the world. Marking their twenty-fifth anniversary season, the Echo Company is trying again – with resounding success this time – to bring their audiences the world premiere of POOR CLARE.
The time is 1211, and the place is Assisi, Italy. Born Chiara Offreduccio to a wealthy family, Clare of Assisi was one of the first followers of Saint Francis of Assisi, later founding the Order of Poor Ladies, a monastic religious order for women. Following her death, her "Ladies" renamed the order, now simply referred to as "the Poor Clares." But the question remains: What led to Clare's change from pampered rich kid to savior of the poor and forgotten?  Author Atik delves into that question with compassion and humor.
Chiara/Clare (Jordan Hull) is a typical teen of her time – she is also a child born to wealth and power. The Offreduccio family espouses the cause of kindness towards inferiors, which includes donations to the poor and occasional concern about their welfare. But Clare's interests tend towards the latest styles and plans for her imminent wedding – just as she has been trained to do. Enter Francis (Michael Sturgis), a mildly ditsy young man who is trying his very best to embody God's precepts – even if it means shaving his crown to make a dent in his vanity. Suddenly, medieval Clare is forced to observe things around her that she never noticed before. Suddenly, she looks poverty in the face and starts to question why she is a "have" in a world of "have-nots." The perception is increasingly disturbing as the narrow confines of her world grow – but how will she handle this new knowledge?
Chiara Atik has woven a fascinating tale as she digs into medieval life and culture – and shines the light of today on the beliefs of yesterday. Clare could almost be the spoiled daughter of a billionaire or even trillionaire of today, maybe even a Valley Girl. Atik manages to make Clare understandable to today's audiences by thinking about her as if she were living in 2021. Francis has also been "modernized" into a sincere but questioning and sometimes bumbling fellow whose goals may be a little outsized for a mere human. Clare's mother Ortolana (Ann Noble) exemplifies the open-minded liberal whose talk probably exceeds her actions. Clare's sister Peppa (Donna Zadeh) is pushed and pulled among the conflicting tides all around her. Tony DeCarlo personifies the homeless panhandler of then and now. Time may lead to changes – but people always remain people – a fact which playwright Atik understands very well.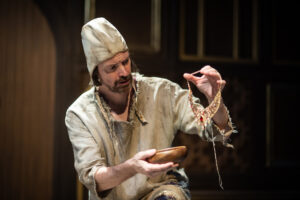 Skillfully directed by Alana Dietze, POOR CLARE doesn't shy away from controversy – but also makes conflict palatable by keeping the touch light when it needs to be and heavier as time progresses. Kudos for a simple yet effective set and eye-catching lavish costumes denoting the affluent of the day. The entire production team did a bang-up job of keeping things simple and yet appetizing. Given the true story which inspired the play, POOR CLARE's ending is appropriate, yet reveals a preachy tendency which is somewhat at odds with the overall production. At the same time, POOR CLARE is entertaining, charming, fun – and a must-see production – which will appeal to almost all audiences regardless of their particular beliefs.
POOR CLARE runs through November 29, 2021, with performances at 8 p.m. on Fridays, Saturdays, and Mondays, and at 4 p.m. on Sundays. The Echo Theater Company performs in the Atwater Village Theatre located at 3269 Casitas Avenue, Los Angeles, CA 90039. Tickets are $34 on Fridays, Saturdays, and Sundays with "Pay-What-You-Want" subject to availability on Mondays. For information and reservations, call 310-307-3753 or go online.