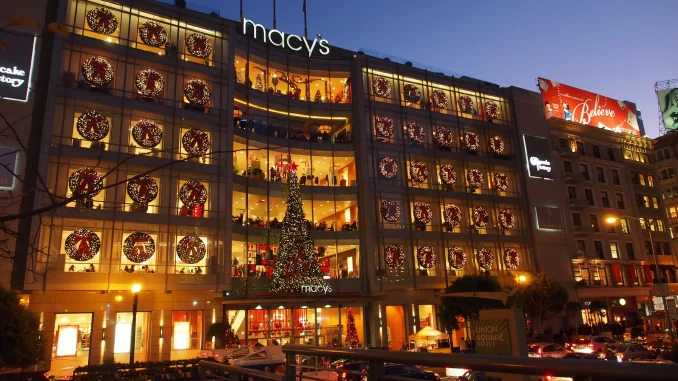 San Francisco Bay Area – Yes- as we say it every year- it seems like summer was "just yesterday" and now we are looking at Thanksgiving— which we know starts that holiday train to Advent, Hanukah, Christmas, New Year's and beyond!

The holidays really are "The Most Wonderful Time of the Year." But this year, this sentiment is unanimous: The Holidays could not come too soon for us. We are a people seeking joy, hope, and, maybe even a little "cheer" that comes in all of the delicious as well as spiritual forms it can be received at the holidays.

Our connection at the San Francisco Travel Association has let us know about the following exciting happenings. I'm sure there are waaaaay more cool things going on, but here's a "starter kit," if you will, a sampler for your consideration.

San Francisco will be lit up and dressed up in ways it has never before been. Spoiler alert: look for the amazing new lights show that will be giving more than just a little "oomph" to the SF downtime skyline with its red & green glow on the Transamerica Tower and string of lights across neighboring skyscrapers.

Our arts groups are buzzing (and "bizzy"!) opening their doors to in-person events after such a long time shut down or streaming. One caveat to unabashed enthusiasm: do check for all of the vaccination/Covid testing requirements before you purchase any tickets. For anyone wishing to stay at home but not wanting to miss holidaybfestivities, some of our beloved arts groups will also continue streaming performances (hurray!!) so no one gets left out.

I'm listing the holiday opportunities- with their original descriptions from SF Tourism- in date order, from the soonest at the top to the ones further into the months nearer the bottom.

🎁Do check back from time to time as this list, I'm sure, will be updated as more information comes to us.
Go ahead, now, get those holiday plans in the making. Tell'em Splash sent ya!🎁
–Arts, Events, & Activities-

November 2, 2021 to January 17, 2022 – The Safeway Holiday Ice Rink in Union Square https://unionsquareicerink.com
What says "the holidays" more than skating under the sun – or the stars – in Union Square? Since 2008, The Safeway Holiday Ice Rink in Union Square has delighted children and adults with its holiday-themed ice park where everyone can enjoy skating in the iconic plaza surrounded by festive lights and Macy's giant Christmas tree. The Safeway Holiday Ice Rink's event roster includes the highly anticipated Drag Queens on Ice, Flashback Fridays, and Polar Bear Skate. Admission is $19 and includes skate rental.
November 21, 2021 to January 31, 2022 Illuminate SF Festival of LightReturning for its ninth year, Illuminate SF Festival of Light shines with https://illuminates.com more than 40 eco-friendly light installations in 17 of the city's neighborhoods. The light art installations, created by both local and international artists, come to life at dusk each night, making for an illuminating adventure. Some are permanent, but others are fleeting creations that can only be glimpsed during the festival.
November 22, 2021 through January 3, 2022-The Art of Banksy
banksyexhibit.com/sanfrancisco
The Art of Banksy—the largest touring exhibition of authentic Banksy artworks sourced from private collectors around the world—announced the San Francisco exhibition will be held at San Francisco's iconic Palace of Fine Arts. Ticket prices start at $39.99 ($29.99 for children 16 or younger).
November 23,2021 to January 9, 2022 – HapPier Holidays at Pier 39 Tree Lighting/Animated Light Showshttps://www.pier39.com/happierholidays
PIER 39 is spreading Holiday cheer on San Francisco's Waterfront! Each night, enjoy the PIER's tree lighting musical moments on its 60′ Christmas tree which will come to life every half hour from 5pm – 10pm, Nov. 23, 2021 through Jan. 9, 2022. Synchronized to holiday music, the tree transforms into a kaleidoscope of swirling colors, adorned with thousands of specialty lights and ornaments.
November 26 – December 26, 2021 – A Christmas Carol at Broadway SFhttps://www.broadwaysf.com
This new imagining of the old Charles Dickens classic recently earned five Tony Awards. The production at Golden Gate Theatre features dazzling staging, moving storytelling, and 12 of your favorite Christmas carols.
Throughout December 2021 – San Francisco Symphony's Holiday Concertshttps://cwww.sfsymphony.org/Calendar/CYO/Holiday
The acclaimed San Francisco Symphony has something for everyone this season. From traditional performances of Handel's Messiah and Holiday Brass to a screening of Home Alone with full symphony accompaniment and a New Year's Eve concert with star of stage and screen Darren Criss, the Symphony is back in a big way.
December – San Francisco Fire Engine Tours – https://www.sanfranciscofireenginetours.com
Take in the holiday sights and sounds from a vintage, open-air Mack fire engine with San Francisco Fire Engine Tours. Guests can celebrate the season with Christmas Carols and fun facts as you tour downtown San Francisco, The Embarcadero, and Union Square.
December 3 – December 12, 2021 Let's Glow SF https://www.downtownsf.org/events/letsglowsf/Downtown San Francisco will transform into an enchanting, illuminated journey to a dazzling winter wonderland. Downtown SF Night Lights will cover four towering properties throughout San Francisco's Financial District with first ever multi-night light mapping projection event on the West Coast. This stunning journey of light will feature the works of local artists while celebrating the festive winter season in the heart of San Francisco.
From December 4, 2021 – The Art of the Brick https://artofthebrickexhibit.com
This captivating exhibition features intriguing works of art by renowned contemporary artist Nathan Sawaya. The critically acclaimed collection features more than 70 works of art made exclusively from one of the most recognizable toys in the world—the LEGO® brick. Tickets prices start at $29.
December 10 & 11 and December 24, 2021- San Francisco Gay Men's Chorus Holiday Program
https://www.sfgmc.org
Embrace the delights of the season with beautiful music and a jubilant production of "Home for the Holidays" by San Francisco Gay Men's Chorus. The show, in its 32nd year, celebrates the with hilarious and heart-warming songs and merriment – and some mischief. The Chorus is also performing "Holigays Are Here…Again!," featuring something for everyone, including "Festival Gloria", "Little Drummer Boy," "Go Tell It On The Mountain," "Los Peces en el Rio," and "Over the River" with special guests, SFGMC's very own – Homophonics and The Lollipop Guild!
December 10- 30, 2021 – San Francisco Ballet's Nutcracker
https://www.sfballet.org/productions/nutcracker/
Ever since Nutcracker made its American debut on Christmas Eve in 1944 at San Francisco's War Memorial Opera House, it's been a beloved holiday tradition. Watch as visions of Sugar Plums—the fairy variety, that is—dance before your eyes when the world-class San Francisco Ballet takes the stage.
From January 2022 – Harry Potter and the Cursed Child https://sf.harrypottertheplay.com
It may not open until January, but we can't contain our excitement for the return of Harry Potter and the Cursed Child to San Francisco's Curran. An original story conceived by playwright Jack Thorne, director John Tiffany, and J.K. Rowling herself, Harry Potter and the Cursed Child is the first and only official Harry Potter tale presented live on stage.
January 7 – 23, 2022 – 20th Anniversary of SF Sketchfest, the San Francisco Comedy Festival
https://sfsketchfest.com
Celebrating its 20th year, SF Sketchfest will again bring an outstanding program line-up and entertainers to the Bay Area. The multi-day festival, the longest-running comedy festival in the U.S., will take place in venues across the city and feature major comedy stars and the best up-and-coming comedic acts from around the world for non-stop entertainment including sketch, stand-up, music, improv, films, tributes, alternative comedy, live podcasts, and panel discussions. The line-up will be announced Nov. 19, 2021.
–ONLINE EVENTS FOR THOSE WHO PREFER TO STAY COZY AT HOME-
December 4, 5, 11, 12, 18, and 20, 2021 – The Great Dickens Christmas https://dickensfair.com/
Despite having to cancel its customary Victorian London at the Cow Palace Exhibition Halls, this year you can experience Red Barn Productions' The Great Dickens Christmas Fair in your car, in your home, and under your tree this holiday season! For three weekends, beginning Saturday, Dec. 4 through Sunday, Dec. 19, fans of this beloved holiday tradition will have three ways to experience the Fair's Dickensian delights.
-PLACES TO STAY & THINGS TO SEE/DO THERE-

From November 27, 2021 – Fairmont San Francisco's Gingerbread House
https://www.fairmont-san-Francisco.com/holidays
The Fairmont San Francisco's hotel lobby transforms into a holiday destination. The highlight of this year's exhibit is a two-story giant Gingerbread House (22-feet-high and 22-feet-wide) adorned in hundreds of pounds of See's Candies. Located in the hotel's grand lobby, the event is open to the public and offers guests the opportunity to enjoy complimentary holiday refreshments and heart-warming music while Santa Claus poses for photos. A seasonal Moët Champagne bar will also be open throughout the festive season. An entrance fee of $10 per adult will be collected from non-hotel guests and those who do not hold dining/holiday tea reservations. Net proceeds from entrance fees will be donated to Make-A-Wish Greater Bay Area. Accompanied children will be extended complimentary access.
November 1, 2021 – January 22, 2022 – Proper Holiday Packagehttps://www.properhotel.com/san-francisco/
The Proper Hotel is packaging a holiday treat for guests this season. Stay at the hotel and receive a $50 dining credit at La Bande or their weekend Nutcracker Afternoon Tea, ice skating tickets and a hot toddy set-up and nutcracker-inspired dessert amenity.
Hotel Zetta's Photo Sessions with The Bay Shooters
https://www.viceroyhotelsandresorts.com/zetta
Guests staying at Hotel Zetta can capture their holiday getaway by booking an in-depth photography and editing session with a local expert. In partnership with Bay Shooters, a community of the country's most talented and up-and-coming photographers and creative individuals, guests are guided around the city to capture images with their personal cameras. After guests spend the day taking photos of various landmarks and viewpoints, they will head back to the hotel to learn how to professionally edit their images. Pricing starts at $550 per person. Includes a three-hour session with a local professional photographer followed by a one-hour editing session.
–HOLIDAY DINING EXPERIENCES-

December 2021 – Fall into Winter at alley & vine https://www.alleyandvine.com
alley & vine will be adding an optional caviar component to a new and improved six-course seasonal tasting menu. The luxurious menu on its own will cost $185 and for $95, guests can have a total of one ounce of house-cured and sourced caviar incorporated into each course and can add an optional wine pairing.

November 28 – December 6, 2021 – Hanukkah at One Market Restaurant https://onemarket.com
Whether you're looking to dine in or order delivery, One Market's Hanukkah menu is perfectly suited for intimate celebrations and larger parties. The three-course menu includes Mark 'n Mike's matzo ball soup, optional potato latkes, 12-hour smoked beef brisket and sufganiyot (traditional jelly doughnut).

Craft Cocktail Classes at Dirty Habit in Hotel Zelos
https://www.viceroyhotelsandresorts.com/zelos
At Hotel Zelos' onsite sultry restaurant and lounge, Dirty Habit, guests and locals alike can book a private craft cocktail class with mixology maven Mariza Sabino. Craft cocktail classes include a one-on-one cocktail lesson highlighting a spirit of guests' choosing. Pricing starts at $250 for one hour.

WILCOMEN! BUENVENUE! WELCOME! San Francisco is open and committed to keeping the City a vibrant AND safe place to visit and live. Whether you're visiting from across the Bay, across the continent, or from across the globe, please take a moment to take the San Francisco Safe Travel Pledge here: https://www.sftravel.com/article/take-san-francisco-safe-travel-pledge.
And let the Holiday Fun begin!
💜Remembering Liverpool Lil's, Lefty O'Doole's with snow and live carollers, and my friend the late columnist Bruce Bellingham: Bellingham By the Bay: Bits, Bytes, Adventures in Radio and Real Life 🎁

Feature image by "Vicky T" courtesy of Unsplash contract with Splash Magazines.