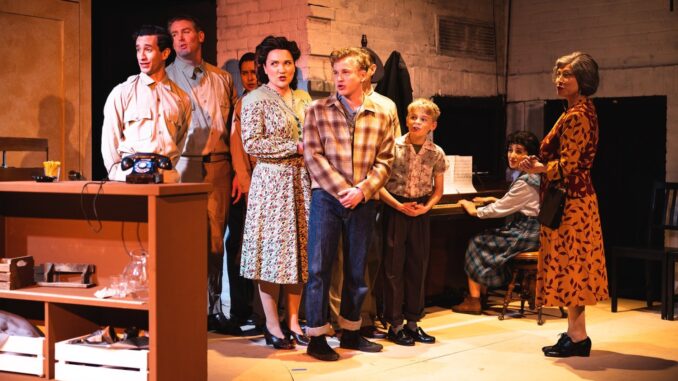 When famed author William Saroyan wrote a script for MGM in hopes of producing and directing a signature film, he never expected rejection. When his services were summarily dismissed, he went home and quickly wrote a novel based on his script. The book was titled "The Human Comedy" and came out just before the film of the same name based on Saroyan's original script. As it turned out, the novel became a Book of the Month Club selection and a runaway best seller – and, to top off the eccentricities of fate, Saroyan also won an Academy Award for the best story for a film. Even before the birth of THE HUMAN COMEDY, Saroyan had already cemented his status as writer extraordinaire when he received a Pulitzer Prize in drama for "The Time of Your Life" in 1940.
Saroyan's heart was close to this tale, based on his childhood growing up in Fresno, California, during World War II. Saroyan's own experiences often paralleled those of Homer, the 14-year-leading character in THE HUMAN COMEDY. Both were raised in fatherless families. Saroyan lost his father when he was three years old, and he and his brother and sister were placed in an orphanage for the next five years before being reunited with their mother in Fresno. His immigrant parents made him well aware of issues associated with moving into a new country, often being seen as outsiders with striking cultural differences who frequently lived in poverty.
Saroyan was also taken with Homer's Odyssey – and, in fact, honored the famed Greek by the names he selected for key elements in THE HUMAN COMEDY. His leading character is Homer, whose younger brother is Ulysses – and both live in Ithaca. Homer's first love is Helen Eliot (Helen of Troy, anyone?) Saroyan's personal experiences also entered into the tale. He did a brief stint working in a telegraph office as a young man, and he also had to deal effectively with his single mother, brother, and sister.
THE HUMAN COMEDY is basically a coming-of-age story about 14-year-old Homer, who feels that he must assume the role of "man-of-the-house" after his father's death. As it turns out, a part-time job is the perfect opportunity for the naive teenager to learn about the world and the human condition. Delivering death notices from the War Department during WW II was no picnic – but neither was figuring out what constitutes an adult and how to deal with responsibility. Overall, however, THE HUMAN COMEDY is an optimistic story about finding hope and looking for the goodness in people. Of course, there are some who say that his optimism may have come from the original purpose of the story – a script written for MGM which emphasized positive values for a country struggling in wartime. Congratulations to the writer and director, Thom Babbes, who found inspiration in Saroyan's long-ago tale.
Kudos to Brendan Shannon as Homer Macauley, a clueless teen who grows up too quickly in a stressful wartime environment. And let's not forget the Macauley family, including the young Finn Martinsen as Ulysses, Homer's brother. Of special note were also Homer's father figures, Bruce Ladd as Willie Grogan, an alcoholic telegrapher trying to make it, Kendall Lloyd as Tom Spangler, a gentle soul who looks for the silver lining in everyone's personality, and Marc Elmer as Matthew Macauley, a man who reaches beyond the grave to offer solace to his family.
The production team also scores a high five, with Tim Farmer's scenic design a quick lesson on turning a door into almost anything in the blink of an eye. Martha Carter's lighting, Shon Le Blanc's costumes, David B. Marling's sound, and Nicolas Santiago's projections turned a relatively simple rotating stage into something special.
There were, as might be expected, some areas which could use tweaking, including a few anachronistic inserts into the wartime '40s and a long running time (over two hours) which might have been streamlined by omitting some material which did not directly impact on Homer's journey. Nonetheless, THE HUMAN COMEDY is a gripping narrative which will keep the audience on the edge of their seats. The play offers some laughs, some tears, and a chance to see the '40s revived in vivid colors. Besides, it's entertaining and fun – and, courtesy of Saroyan and Babbes, has a hopeful and happy feel even during tragic events.
THE HUMAN COMEDY runs through April 23, 2023, with performances at 8 p.m. on Fridays and Saturdays and at 2:30 p.m. on Sundays. Saturday matinees at 2:30 p.m. are planned for 3/18 and 4/1. There will be no shows on Easter weekend (4/7-9/23). The David Schall Theatre is located at 1760 N. Gower Street, Hollywood, CA 90028. Tickets are $35 (seniors $30, students $25, group rates available). For information and reservations, call 323-462-8460 or go online.