First commissioned in 2019 and more than two years in development, the first production of A HEATED DISCUSSION reflected the work of more than 45 participants. Spearheaded by Ben Guillory, artistic director of the Robey Theatre Company, the play with initially presented in 2022. Both A HEATED DISCUSSION and A HEATED DISCUSSION REVISITED were written by award-winning Levy Lee Simon and produced and directed by Ben Guillory. A HEATED DISCUSSION REVISITED has been updated to reflect national and world events which have impacted our society since 2022.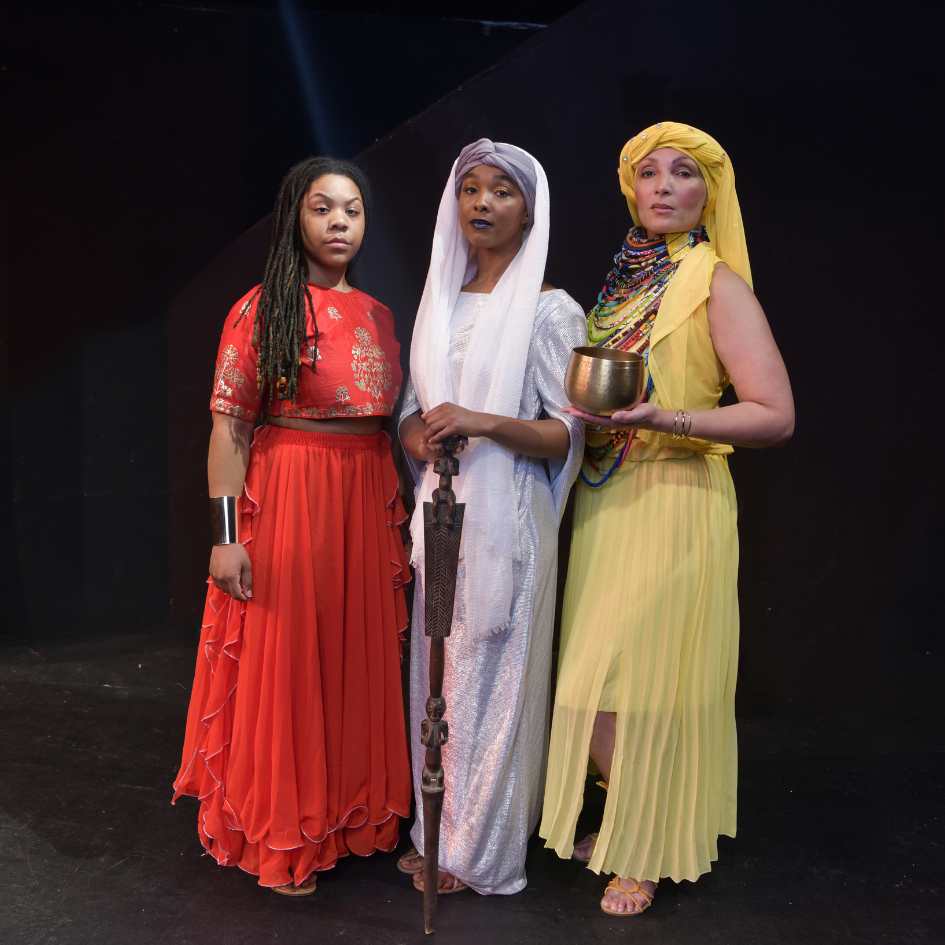 Ayonna Michele, Anderlyn Smith, and Charyse Monet – Photo by Ian Foxx
Summoned by three Yoruba African Orishas (Ayonna Michele, Charyse Monet, Anderlyn Smith), historical icons of the past again offer their views about what is going on in today's Black American world. The star-studded cast of characters, including religious leaders, political activists, authors, musicians, doctors, and at least one comedian, include Lorraine Hansberry (Christina Childress), Dr. Martin Luther King (Damon Rutledge), Bob Marley (Alex W.S.T.), Tupac Shakur (Lorenz Ariel), James Baldwin (Julio Hanson), Malcolm X (Marcus Clark-Oliver), Maya Angelou (Kimberly Bailey), Nina Simone (LaShada Jackson), Richard Pryor (Philip Bell), Zora Neale Hurston (Swisyzinna/Shane Sharon), Ida B. Wells (Monte Escalante), and Dr. Francis Cress Welsing (Rosie Lee Hooks) get into passionate, vocal, and controversial debate as they consider the status of Black America today. Especially when they begin to offer views and the occasional solution to problems like police killings, systemic racism, historical bias, and the violence that fuels these acts. And let's not forget a possible solution offered by a fiery Shango (Ben Guillory).
Rosie Lee Hooks and Julio Hanson – Photo by Ian Foxx
A HEATED DISCUSSION REVISITED continues the discussion begun in 2022. It is powerful, creative, and certainly thought-provoking. The multiple topics are barely able to fit into the three-hour format. Director Guillory manages to keep viewpoints lively and make sure that each iconic character maintains his own emotional and personal self as the discussions truly do become more and more heated. As in the first play in the series, music continues to play a part in the action and adds an element of its special form of emotion to the proceedings. Cleverly inserted film clips bring home some troubling events of the past year.
Lorenz Arnell as Tupac Shakur – Photo by Ian Foxx
The assemblage of actors is talented, and each does an attention-grabbing job of staying within his character as the topics develop and grow. The production team clearly had its hands full with the huge cast and the need to costume each character in his personally accurate garb – covering a few hundred years in fashion. A HEATED DISCUSSION REVISITED will especially appeal to anyone interested in Black history, including the Black movement, Black Lives Matter, events torn from recent headlines, and both historic and contemporary Black issues.
A HEATED DISCUSSION REVISITED runs through 6/18/23, with performances at 8 p.m. Thursdays through Saturdays and at 3 p.m. on Sundays. A Saturday matinee is also scheduled on 6/17/23 at 2 p.m. The Robey Theatre Company performs at the Los Angeles Theater Center, 514 S. Spring Street, Los Angeles, CA 90013. Tickets are $10 (students, seniors, and veterans $25). For information and reservations, go online.