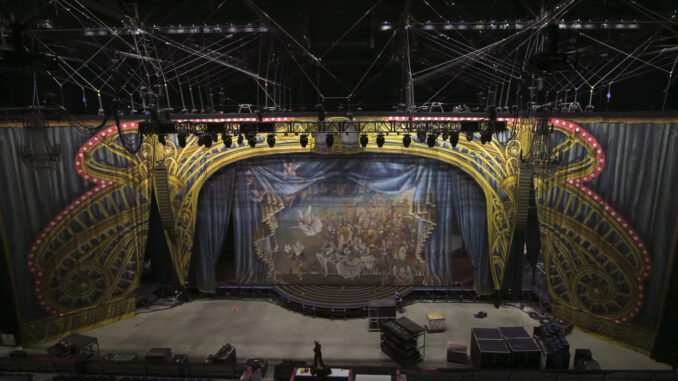 In anticipation of a September 2023 performance in Phoenix, AZ, we're going to go exploring behind the scenes of Cirque du Soleil Corteo. We'll take a deep dive into the intricacies of executing this kind of show and repeating it consistently, night after night, to sell-out audiences.
It was a family reunion like no other. After a two year hiatus, the performers of Cirque du Soleil Corteo came back together post-COVID, ready to resurrect this popular Cirque show. Before them lay several weeks of rehearsal, in which they rehone their skills, relearn their moves, and regain their confidence in themselves and in each other. The moments of elation upon seeing each other for the first time in months are nearly overshadowed by the feelings of excitement and trepidation at beginning Corteo anew.
Cirque du Soleil Corteo premiered in Montreal, Quebec, Canada in 2005. Corteo is a story about a man named Mauro (played by Mauro Mozzani). Mauro is a clown in a circus. One night, he dreams about dying and imagines what his friends might do to remember him and celebrate his life. ("Corteo", or "cortege", in Italian, is a joyous procession.) The celebration is what you would expect of any Cirque show: a parade of gravity-defying exhibitions of grace, dexterity, strength, and stamina, executed by a multi-national cast of jugglers, acrobats, aerialists, clowns, singers, dancers, actors, and musicians. Ultimately, Corteo is a story about love and hope. The story is told in the universal languages of expression — music, performance, and emotion.
For the performing troupe, the journey back to the Cirque homebase of Montreal for rehearsals may be reminiscent of those initial auditions that they all went through so many years before. Performers from all over the world execute the most complex of live productions. Expectations run extremely high, as the Cirque name has become synonymous with stellar and incomparable performances. So far, the reunion is successful. "It's extraordinary," exclaims Senior Artistic Director Alison Crawford. "They came back in fitter shape than when they left. So, it's really, really exciting!"
The intricacies of each act — even the transitional portions between acts — had already been decided many months ago, before COVID shut the show down. So part of the challenge was to refresh everyone's recollections of those things and rebuild the muscle memory that enables the performers to step into and out of each phase of the show smoothly and automatically. The variety within and between acts puts the performers in constant motion, whether they take center stage or not. All key movements are choreographed, with the performers adding their own nuances, keeping things fresh and seeming spontaneous.
Behind the scenes, even more is going on. If you've ever wondered how spotlights can so precisely follow the performers who are darting around the stage with seemingly wild abandon, here's the secret: Artists may wear transmitters that are connected to the lighting system. These allow lights to literally track those performers' exact locations at all times. Along with lighting, railways and walkways are built high above the stage to float performers over the crowd, and to provide lofty exits for the airborne talent.
The Construction Department creates props, from giant balloons to bouncy beds to rotating chandeliers, all fabricated to meet the needs of the production style while being functional apparatus for acrobats and aerialists. The Wardrobe Department stocks over two thousand costumes. They are prepared, adjusted, mended, and cleaned to accommodate every performer's needs. Of course, every costume is uniquely tailored to each individual's needs. The Makeup Department develops and documents each character's makeup "look". As in any traditional circus, performers are expected to apply their own makeup.
So what does it take to be a part of Cirque Du Soleil Corteo? More than half of all Cirque performers come from a sports background. Many are former Olympians. That said, prospective Cirque performers need to be ready to transition to a new and unique phase of physical and mental training. "We're really, really conscious of not wanting to pluck athletes out of sports," says Cirque Director of Casting, Stacy Clark. "They need to be done. It needs to be post-competitive. They need to be emotionally ready to put sports behind them." Even after the best physical specimens are selected, many will fall by the wayside simply because they are not good performers. Singing, dancing, synchronized movement, and stage presence will make or break even the best athletes who are vying for the few available spots in the production.
If it is crystal clear that Cirque may live and die by the uncompromising stamina of their most physically fit troupe members, could there possibly be anyone else they might raise to the same level of importance? But of course: the clowns! The most memorable performers of any Cirque show are apt to be the clowns. They are the emotional glue that holds the story together. They are also employed to provide fun segues between acts, scurrying out at the end of one act, stumbling through a well-rehearsed, but seemingly improvised comic skit, only to scamper off as the next act takes the stage.
Clowns need to be physically dexterous, with the ability to convey a vast array of emotion in their facial expression and the contortions of their bodies. Speaking is pretty much optional when you practice the universal language of pantomime. In Corteo, the main character, Mauro, is a clown; as is his best friend, the Giant Clown and the ever-present White Clown. Corteo, itself, is a figment of a clown's dream. Through Mauro's dream we are transformed to the depths of human emotion while experiencing the height of entertainment. Expect nothing less from Cirque du Soleil.
We hope this was an interesting little tour backstage. Look for our future review of the show when it comes to the Footprint Center in Phoenix, AZ in September 2023.