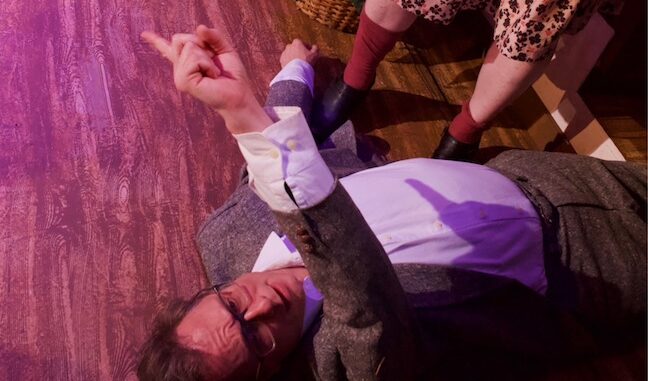 By Jeryl Moy
The Pear Theatre in Mountain View, CA set the bar high for the Bay Area's new theater season with its hilarious version of the classic farce, "Noises Off." Even if you have seen this play by Michael Frayn before you will not want to miss this unique production. The excellent cast directed by the very talented Katie O'Bryon Champlin created a laugh-out-loud (a lot) experience for those of us lucky enough to secure seats in this very intimate setting. The Pear had some very funny added touches to their production that I won't spoil by talking about here.
"Noises Off" is a farce about the production of a play titled "Nothing On." Each of the actors in "Noises Off" has a role to play in the production of "Nothing On." They give the audience a satirical behind-the-scenes look at the making of a live theatre production. But the actors in "Nothing On" are experiencing tremendous difficulties in both their personal and professional lives, so the play flounders. That play is supposed to be a bedroom comedy in which two pairs of would-be lovers are continuously foiled in their attempts to have quick trysts. A very confused and fabulously funny housekeeper, a semi-retired bumbling burglar, and a very frustrated director add to the mayhem. Everything that can go wrong both onstage and behind the scenes does go wrong for "Nothing On." Cues are missed, props are mishandled, lines are forgotten, doors get stuck, and an errant plate of sardines plagues the play. Behind the scenes the actors have multiple relationship issues that interfere with their ability to put on a decent performance.
In contrast, everything goes exactly right in the performance of "Noises Off." The roles in this play have got to be the most challenging roles an actor can master. I am quite sure it takes more skill to do this kind of comedy than to do any other genre. Every role in this play requires perfect comedic timing, physical humor prowess, facial expression control, and line delivery that is unbelievably quick and ever changing. This cast demonstrated their mastery of all those skills without missing a beat. The audience was very obviously enjoying every minute as evidenced by the constant sound of laughter.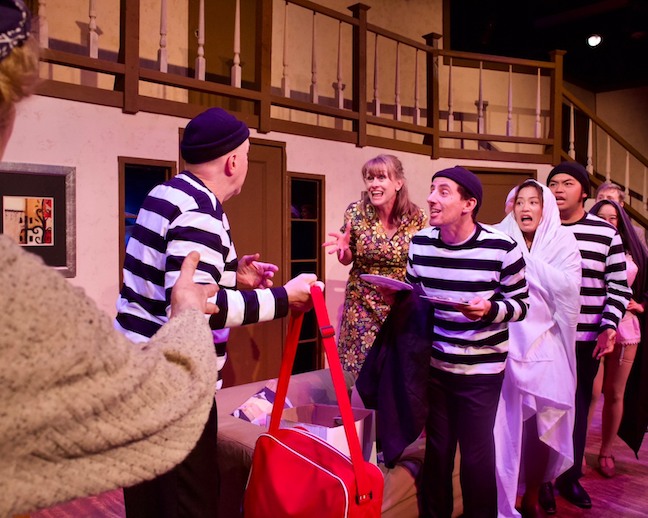 Regular theater goers will recognize most of the cast members and realize why this play is so successful. Judith Miller is unsurprisingly excellent in the role of Dotty, who plays the housekeeper in "Nothing On." Her plate of sardines, the prop that goes missing multiple times, and a troublesome telephone give her many opportunities to show her tremendous comedic skill. Natalie To made me laugh out loud with her wonderful ability to overact as Brooke, who plays one of the foiled lovers in "Nothing On." She made me believe that actress thought she was doing everything right, while she over dramatized her lines, missed obvious cues, and made her entrances in such awful exaggerated ways. It can't be easy to do that. Likewise, Chris Mahle, Michael Rhone, Tannis Hanson, Brandon Silberstein, Ken Boswell, Jordan Goodwin, and Bryan Moriarty all deserve more to be said about their fabulous performances. The timing of every line and every movement had to be just right. The physical comedy worked perfectly to showcase the absurdity of this play within a play.
If the Pear Theatre keeps the bar raised this high for its entire 22nd season I predict a full house at every performance. Because the theatre is relatively small, everyone has a great seat. But, that limitation also means getting tickets early is smart. The atmosphere of the theatre is very cozy. Special touches add to the experience. For this particular play, there are special drinks and snacks to enjoy during intermission. " Noises Off" runs through October 1st. Performances are Thursday through Sunday. Located at 1110 La Avenida St. in Mountain View, CA., the theatre is centrally located in the Bay Area. It is a destination worth traveling for. The 22nd season includes special events as well as the long-running productions. For more information about those productions, times, and tickets see their website, thepear.org.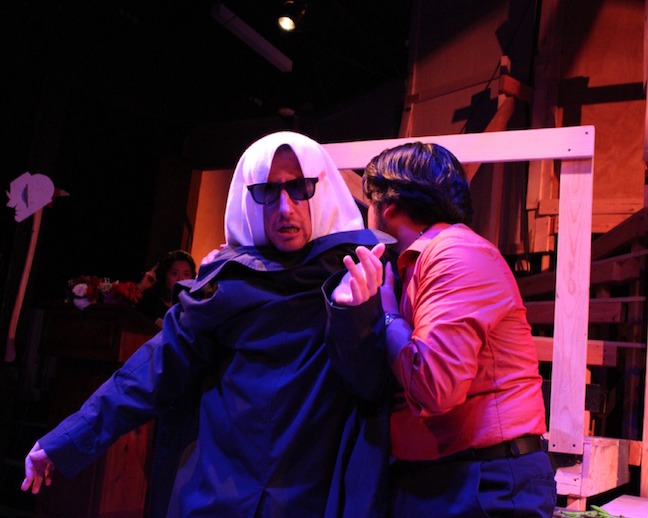 Photography is by Caitlin Stone-Collonge